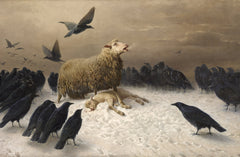 Anguish | August Friedrich Albrecht Schenck | 1878
Anguish is an 1878 oil painting by the artist August Friedrich Schenck. Perhaps Schenck's most famous painting, it is held by National Gallery of Victoria, in Melbourne, Australia. The painting was an early acquisition by the gallery, just a few years after it was founded, and has been voted the most popular of the gallery's 75,000 works on two occasions, in 1906 and 2011.
The painting depicts a ewe bleating in grief, her breath freezing in the cold air. The mother sheep is standing over the dead body of her lamb, a trickle of blood running from its mouth into the white snow, in a scene reminiscent of a pietà. The pair of sheep are encircled by a murder of black crows that crowd ominously around under a dull grey cloudy winter sky, waiting for an opportunity to scavenge the carcass.
Print:
A premium quality heavyweight (200gsm) fine art print material with a smooth, clean finish. This museum quality paper is extremely consistent and works perfectly with large, full colour graphics or illustrations. The matte finish emphasizes different highlights and tones in the source artworks; helping to create stunning works of art.
- All prints include a small 0.25 inch white border to ensure space for framing.
Our Eco Credentials Include:
FSC approved or sustainably sourced paper
Printed using water based inks
Local fulfilment reduces carbon emissions
Contains no plastic
Sizes:
12'' x 8'' Inches = 30.5 cm x 20.3 cm
18'' x 12'' Inches = 45.7 cm x 30.5 cm 
24" x 16" Inches = 61 cm x 40.6 cm

Anguish | August Friedrich Albrecht Schenck | 1878