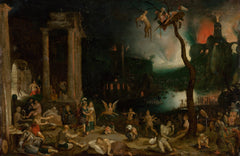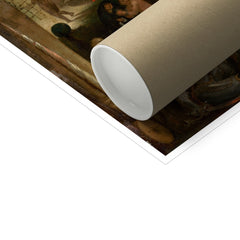 Aneas and the Cumean Sybil in the Underworld | Jan Brueghel the Elder | 1604
The story comes from the Aeneid, by the Roman poet Virgil. The Trojan military leader Aeneas wants to visit the Underworld in order to consult the ghost of his father. He meets the Cumaean Sibyl (a priestess at Cumae, a Greek colony near Naples, Italy). She agrees to guide him through the kingdom of the dead.
 Print:
A premium quality heavyweight (200gsm) fine art print material with a smooth, clean finish. This museum quality paper is extremely consistent and works perfectly with large, full colour graphics or illustrations. The matte finish emphasises different highlights and tones in the source artworks; helping to create stunning works of art.
- All prints include a 0.25 inch white border to ensure space for framing.
Our Eco Credentials Include:
FSC approved or sustainably sourced paper
Printed using water based inks
Local fulfilment reduces carbon emissions
Contains no plastic
Sizes:
12'' x 8'' Inches = 30.5 cm x 20.3 cm
18'' x 12'' Inches = 45.7 cm x 30.5 cm 
24" x 16" Inches = 61 cm x 40.6 cm
30" x 20" Inches = 76.2 cm x 50.8 cm

Aneas and the Cumean Sybil in the Underworld | Jan Brueghel the Elder | 1604