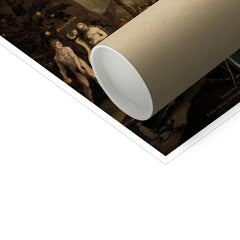 An Allegory of the Old and New Testaments | Hans Holbein the Younger | 1510
"An Allegory of the Old and New Testaments" is a painting by German Renaissance artist Hans Holbein the Younger, created in the early 16th century. The painting is a large, allegorical work that represents the duality of the Old and New Testaments in Christian scripture. The painting is divided into two halves, with the left half showing Old Testament figures, including Moses with the Ten Commandments with Adam & Eve, and the right half showing New Testament figures, including the Madonna and Child and Saint John the Baptist. The painting is notable for its detailed and lifelike depictions of the figures, as well as its intricate symbolism and allegory. The painting is considered an important work of Northern Renaissance art and reflects Holbein's skill as a painter and his deep understanding of the religious and intellectual ideas of his time.
Print: 

A premium quality heavyweight (200gsm) fine art print material with a smooth, clean finish. This museum quality paper is extremely consistent and works perfectly with large, full colour graphics or illustrations. The matte finish emphasises different highlights and tones in the source artworks; helping to create stunning works of art.
- All prints feature a 0.25 inch white border to ensure space for framing. 
Our Eco Credentials Include:
FSC approved or sustainably sourced paper
Printed using water based inks
Local fulfilment reduces carbon emissions
Contains no plastic
Sizes:
14 x 11 Inches = 35.5 cm x 28 cm
20 x 16 Inches = 50.8 cm x 40.6 cm
An Allegory of the Old and New Testaments | Hans Holbein the Younger | 1510