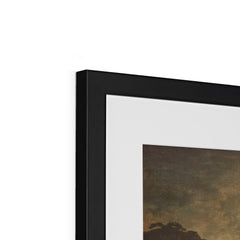 A View of Vesuvius from Naples | Joseph Wright of Derby | 1790
"A View of Vesuvius from Naples" is a painting by English artist Joseph Wright of Derby, created in 1790. It depicts the city of Naples with Mount Vesuvius in the background, casting a glow over the city at night. The painting shows the bustling harbour, with boats and ships, as well as the illuminated city. The painting showcases Wright's skill in capturing the dramatic effect of light, both natural and artificial, and conveys a sense of the energy and activity of the city. The painting is considered an important work in the artist's oeuvre and reflects the growing fascination with the natural world and its power during the Enlightenment era.
Frame:
Created from high-quality wood, milled with simple clean lines and presented with a satin finish. Includes an off-white mount that will not discolour or fade with age.
All framed prints feature our premium fine art paper. This is a museum-quality paper which reproduces photography and artworks with exceptional tonality and renders sharp details with consistent flatness and accuracy.

Print: 

For the matted / mounted prints we use a thick 1.4mm window mount cut from premium, textured mountboard. All mounts are "conservation grade", FSC certified, 100% acid free, and will not discolour or fade with age.

Simple, elegant design
Premium, fine art paper with a gently textured surface
Handmade by specialist picture framers
FSC certified off-white mat / window mount
Delivered ready for hanging
A View of Vesuvius from Naples | Joseph Wright of Derby | 1790