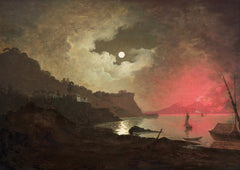 A View of Vesuvius from Naples | Joseph Wright of Derby | 1790
"A View of Vesuvius from Naples" is a painting by English artist Joseph Wright of Derby, created in 1790. It depicts the city of Naples with Mount Vesuvius in the background, casting a glow over the city at night. The painting shows the bustling harbour, with boats and ships, as well as the illuminated city. The painting showcases Wright's skill in capturing the dramatic effect of light, both natural and artificial, and conveys a sense of the energy and activity of the city. The painting is considered an important work in the artist's oeuvre and reflects the growing fascination with the natural world and its power during the Enlightenment era.
Print: 

A premium quality heavyweight (200gsm) fine art print material with a smooth, clean finish. This museum quality paper is extremely consistent and works perfectly with large, full colour graphics or illustrations. The matte finish emphasises different highlights and tones in the source artworks; helping to create stunning works of art.
- All prints feature a 0.25 inch white border to ensure space for framing. 
Our Eco Credentials Include:
FSC approved or sustainably sourced paper
Printed using water based inks
Local fulfilment reduces carbon emissions
Contains no plastic
Sizes:
A2 = 23.4 x 16.5 Inches
A3 = 16.5 x 11.7 Inches
A4 = 11.7 x 8.3 Inches

A View of Vesuvius from Naples | Joseph Wright of Derby | 1790