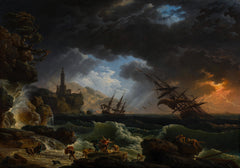 A Shipwreck in Stormy Seas | Claude-Joseph Vernet | 1773
"A Shipwreck in Stormy Seas" is an oil painting by French painter Claude-Joseph Vernet, created in the 18th century. The painting depicts a dramatic shipwreck, with a large vessels being tossed about in rough, stormy seas. The ship is shown in the process of breaking apart, with debris scattered about and crew members clinging desperately to the wreckage. The sky is painted in a dark, brooding blue, with ominous clouds and lightning strikes adding to the sense of danger and turmoil. The overall mood of the painting is tense and dramatic, with the shipwreck serving as a metaphor for the fragility of human life and the power of nature. Vernet's interest in the Rococo and Baroque movements is evident in his use of light and colour, as well as his focus on the emotional and spiritual aspects of the natural world.
Print:
A premium quality heavyweight (200gsm) fine art print material with a smooth, clean finish. This museum quality paper is extremely consistent and works perfectly with large, full colour graphics or illustrations. The matte finish emphasizes different highlights and tones in the source artworks; helping to create stunning works of art.
- All prints include a small 0.25 inch white border to ensure space for framing.
Our Eco Credentials Include:
FSC approved or sustainably sourced paper
Printed using water based inks
Local fulfilment reduces carbon emissions
Contains no plastic
Sizes:
A2 = 23.4 x 16.5 Inches
A3 = 16.5 x 11.7 Inches
A4 = 11.7 x 8.3 Inches

A Shipwreck in Stormy Seas | Claude-Joseph Vernet | 1773