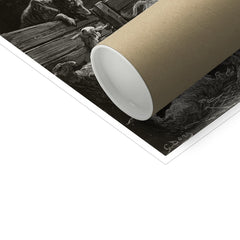 The Wolves and The Sheep | Gustave Doré | 1867
Gustave Doré's engraving "The Wolves and The Sheep" from around 1867 is a powerful illustration that conveys a sense of dread and impending doom. It depicts a flock of sheep in a state of panic, with some trying to escape and others frozen in fear. Above them on a wooden ledge, a group of wolves with glowing eyes observe the flock, exuding a sense of malice and predation. The scene is set at night, with the full moon casting a ghostly light over the turbulent scene, enhancing the overall menacing and terrifying mood of the artwork. Doré's use of contrast between the innocence of the sheep and the cunning of the wolves, set against the backdrop of the natural elements, creates a chilling narrative that captures the viewer's attention.
Print: 

A premium quality heavyweight (200gsm) fine art print material with a smooth, clean finish. This museum quality paper is extremely consistent and works perfectly with large, full colour graphics or illustrations. The matte finish emphasises different highlights and tones in the source artworks; helping to create stunning works of art.
- All prints feature a 0.25 inch white border to ensure space for framing. 
Our Eco Credentials Include:
FSC approved or sustainably sourced paper
Printed using water based inks
Local fulfilment reduces carbon emissions
Contains no plastic
Sizes:
11 x 14 Inches = 28 cm x 35.5 cm
16 x 20 Inches = 40.6 cm x 50.8 cm
The Wolves and The Sheep | Gustave Doré | 1867