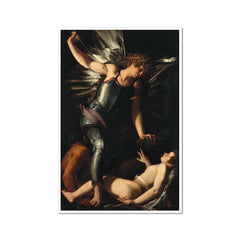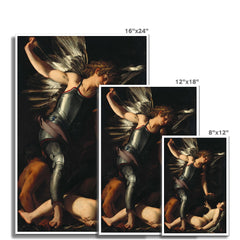 The Divine Eros Defeats the Earthly Eros | Giovanni Baglione | 1602
"The Divine Eros Defeats the Earthly Eros" is a painting by Italian Baroque artist Giovanni Baglione, created in the early 17th century. The painting depicts a allegorical scene in which the personification of Divine Love (Eros) triumphs over the earthly or carnal form of love (also depicted as Eros).
In the painting, Divine Eros is depicted as a radiant and powerful figure, standing triumphantly over the defeated earthly Eros, who is shown lying on the ground. The painting is notable for its religious and allegorical content, as it reflects the belief in the triumph of divine love over earthly passions and desires. Through his depiction of the scene, Baglione sought to convey a moral message and to encourage viewers to turn their hearts towards God.
Print: 

A premium quality heavyweight (200gsm) fine art print material with a smooth, clean finish. This museum quality paper is extremely consistent and works perfectly with large, full colour graphics or illustrations. The matte finish emphasises different highlights and tones in the source artworks; helping to create stunning works of art.
- All prints feature a 0.25 inch white border to ensure space for framing. 
Our Eco Credentials Include:
FSC approved or sustainably sourced paper
Printed using water based inks
Local fulfilment reduces carbon emissions
Contains no plastic
Sizes:
8" x 12" Inches = 20.3 cm x 30.5 cm
12'' x 18'' Inches = 30.5 cm x 45.7 cm 
16'' x 24'' Inches = 40.6 cm x 61 cm
The Divine Eros Defeats the Earthly Eros | Giovanni Baglione | 1602