Saint Francis in Meditation | Francisco de Zurbarán | 1639
"Saint Francis in Meditation" is a painting by Spanish Baroque artist Francisco de Zurbarán, created in the early 17th century. The painting depicts Saint Francis of Assisi in a contemplative pose, with his hands folded in prayer and his eyes downcast. The saint is shown against a dark background, emphasizing his spiritual introspection and detachment from worldly distractions. The painting is notable for its simple, austere composition and its use of light, which creates a glowing aura around the saint, reinforcing his holiness and purity. The painting is considered a masterpiece of Spanish Baroque art and is admired for its serene beauty and spiritual intensity.
Print: 

A premium quality heavyweight (200gsm) fine art print material with a smooth, clean finish. This museum quality paper is extremely consistent and works perfectly with large, full colour graphics or illustrations. The matte finish emphasises different highlights and tones in the source artworks; helping to create stunning works of art.
- All prints feature a 0.25 inch white border to ensure space for framing. 
Our Eco Credentials Include:
FSC approved or sustainably sourced paper
Printed using water based inks
Local fulfilment reduces carbon emissions
Contains no plastic
Sizes:
8 x 12 Inches = 20.3 cm x 30.5 cm 
12 x 18 Inches = 30.5 cm x 45.7 cm
16 x 24 Inches = 40.6 cm x 60.1 cm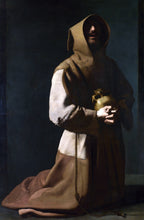 Saint Francis in Meditation | Francisco de Zurbarán | 1639