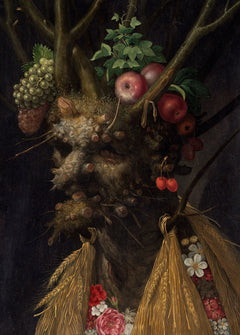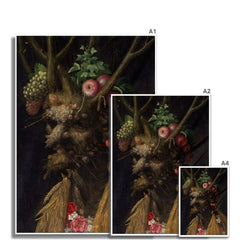 Four Seasons in One Head | Giuseppe Arcimboldo | 1590
"Four Seasons in One Head" is a painting by Italian Renaissance artist Giuseppe Arcimboldo. It is a portrait composed entirely of objects and symbols associated with the four seasons - spring, summer, autumn, and winter. The face is comprised of various fruits, flowers, and other vegetation for spring and summer, while autumn is represented by nuts and fruits, and winter is depicted with dead branches and icicles. The painting is a unique example of Arcimboldo's imaginative, surreal style, which blended elements of the natural world with the human form to create fantastical compositions.
Print: 

A premium quality heavyweight (200gsm) fine art print material with a smooth, clean finish. This museum quality paper is extremely consistent and works perfectly with large, full colour graphics or illustrations. The matte finish emphasises different highlights and tones in the source artworks; helping to create stunning works of art.
- All prints feature a 0.25 inch white border to ensure space for framing. 
Our Eco Credentials Include:
FSC approved or sustainably sourced paper
Printed using water based inks
Local fulfilment reduces carbon emissions
Contains no plastic
Sizes:
A1= 23.4 x 33.1 Inches
A2 = 16.5 x 23.4 Inches
A3 = 11.7 x 16.5 Inches
A4 = 8.3 x 11.7 Inches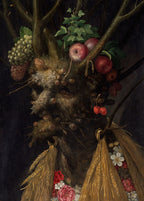 Four Seasons in One Head | Giuseppe Arcimboldo | 1590