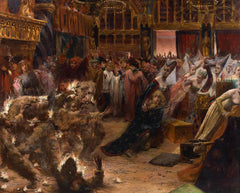 Ball of the Burning Men | Georges Rochegrosse | 19th Century
The painting "Ball of the Burning Men" by Georges Rochegrosse is a vivid and dramatic depiction of a historical event. In this painting, Rochegrosse captures the chaos and horror of the Bal des Ardents, a masquerade ball at the French court in 1393 where a tragic fire broke out. The scene is filled with richly dressed nobles in a state of panic as flames consume the costumes of several dancers who dressed as "wild men" with outfits made of flammable materials. The luxurious interior of the court contrasts starkly with the terror and confusion of the incident. The artwork is characterized by its dynamic composition, intense emotion, and the artist's detailed and sumptuous rendering of textiles and expressions.
Print:
A premium quality heavyweight (200gsm) fine art print material with a smooth, clean finish. This museum quality paper is extremely consistent and works perfectly with large, full colour graphics or illustrations. The matte finish emphasizes different highlights and tones in the source artworks; helping to create stunning works of art.
- All prints include a .25 inch white border to ensure space for framing. 
Our Eco Credentials Include:
FSC approved or sustainably sourced paper
Printed using water based inks
Local fulfilment reduces carbon emissions
Contains no plastic
Sizes:
14 x 11 Inches = 35.5 cm x 28 cm
20 x 16 Inches = 50.8 cm x 40.6 cm

Ball of the Burning Men | Georges Rochegrosse | 19th Century