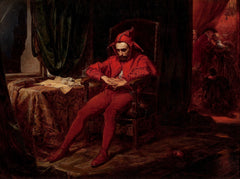 Stańczyk | Jan Matejko | 1862
Stańczyk (Full title: Stańczyk during a ball at the court of Queen Bona in the face of the loss of Smolensk) is a painting by Jan Matejko finished in 1862. This painting was acquired by the Warsaw National Museum in 1924. During World War II it was looted by the Nazis and subsequently by the Soviet Union, but was returned to Poland around 1956.
The primary composition of the painting is in the contrast between the solemn jester (Stańczyk) – the focus of the painting – and the lively ball going on in the background. Stańczyk is shown sitting alone in a dark room, while a ball, hosted by the royal family, is in full swing in the neighbouring hall. His appearance is unlike that one would expect in a jester – gloomy, deep in thought. His seriousness is reinforced by his accessories: his marotte lies discarded on the floor, whereas a holy medallion of the Black Madonna of Częstochowa can be seen on his torso. The wrinkled carpet at Stańczyk's feet could have been formed by his collapsing heavily into the chair upon reading the letter, or through a nervous shifting of the feet thereafter. On the table lies a letter likely announcing that the Grand Duchy of Lithuania has lost Smolensk (now in Russia) to the Grand Duchy of Moscow, causing Stańczyk's sorrow and reflection on his fatherland's fate.
Print: 
A premium quality heavyweight (200gsm) fine art print material with a smooth, clean finish. This museum quality paper is extremely consistent and works perfectly with large, full colour graphics or illustrations. The matte finish emphasises different highlights and tones in the source artworks; helping to create stunning works of art.
- All prints feature a 0.25 inch white border to ensure space for framing. 
Our Eco Credentials Include:
FSC approved or sustainably sourced paper
Printed using water based inks
Local fulfilment reduces carbon emissions
Contains no plastic 
Sizes:
16 x 12 Inches = 40.6 cm x 30.5 cm
24 x 18 Inches = 61 cm x 45.7 cm

Stańczyk | Jan Matejko | 1862