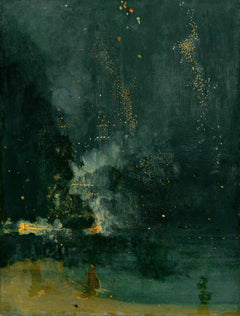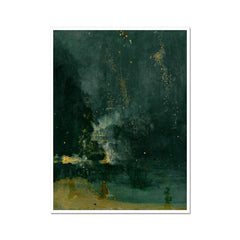 Nocturne in Black and Gold - The Falling Rocket | James Abbott McNeill Whistler | 1875
Nocturne in Black and Gold – The Falling Rocket is a c. 1875 painting by James Abbott McNeill Whistler held in the Detroit Institute of Arts. The painting exemplified the Art for art's sake movement – a concept formulated by Pierre Jules Théophile Gautier and Charles Baudelaire.
First shown at the Grosvenor Gallery in London in 1877, it is one of two works (the other being Nocturne in Black and Gold – The Firewheel) inspired by the Cremorne Gardens, a celebrated pleasure resort in London. One of his many works from his series of Nocturnes, it is the last of the London Nocturnes and is now widely acknowledged to be the high point of Whistler's middle period. Whistler's depiction of the industrial city park in The Falling Rocket includes a fireworks display in the foggy night sky. Nocturne in Black and Gold – The Falling Rocket is most famously known as the inception of the lawsuit between Whistler and the art critic John Ruskin.
Nocturne in Black and Gold – The Falling Rocket is fundamentally composed of bleak tones, with three main colors: blue, green, and yellow. Restricted in its use of colors, the piece develops a muted yet harmonious composition. The billowing smoke gives the viewer a clear distinction between the water and the sky, where the separation blurs into a cohesive and somber space. It is this large avalanche of fog that represents the rocket of the title. Dabs of yellow enliven the artwork as exploding fireworks in the misty air. The figures watching are almost transparent, their shapes general and simplistic. To the left, the artist signs his name in a manner that has clearly been influenced by Japanese prints, with thick, straight brushstrokes that appear to imitate Japanese characters. Influenced by Japanese artists like Utagawa Hiroshige, Whistler spent years perfecting his splatter technique.
Print: 
A premium quality heavyweight (200gsm) fine art print material with a smooth, clean finish. This museum quality paper is extremely consistent and works perfectly with large, full colour graphics or illustrations. The matte finish emphasises different highlights and tones in the source artworks; helping to create stunning works of art.
- All prints feature a 0.25 inch white border to ensure space for framing. 
Our Eco Credentials Include:
FSC approved or sustainably sourced paper
Printed using water based inks
Local fulfilment reduces carbon emissions
Contains no plastic
Sizes:
12'' x 16'' Inches = 30.5 cm x 40.6 cm 
18'' x 24'' Inches = 45.7 cm x 61 cm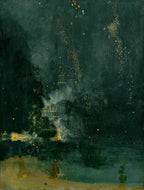 Nocturne in Black and Gold - The Falling Rocket | James Abbott McNeill Whistler | 1875